Oiling the hair is a tradition that has stood the test of time – a lot of time. The practice has been part of Ayurveda for 5000 years. It's safe to assume that there were no manufacturing units back in the day, so the hair oil was always homemade. This means you can also make your own DIY Ayurvedic hair oil.
The good thing is that these oils really do work, or else they wouldn't have been around for five millennia. The trial-and-error bit was probably done by the first few hundred years.
Herbal oils may require hunting for ingredients and giving up your time, but it's worth the effort in the end. If the names and the number of ingredients discourage you, they really should not. Most of them can be found in your local Indian market or online.
Further, it's not too difficult to make. For green living souls, DIY herbal oil is perfect. It is environment friendly – no pre-production and plastic containers – and maybe even better than commercial hair oils, as you have control over the ingredients. Not to mention, it's a great addition to your eco-friendly beauty routine just like this DIY Ayurvedic shampoo.
So, how about we go making this herbal hair oil now? We'll need some ingredients first.
DIY Ayurvedic Hair Oil Recipe
There are so many ways to go about making herbal hair oil. Ayurveda has tons of fantastic ingredients and you can't go much wrong with most combinations. In this recipe, you won't find sesame oil, which is widely used in Ayurveda hair treatments, but that was a personal choice. You are free to incorporate it.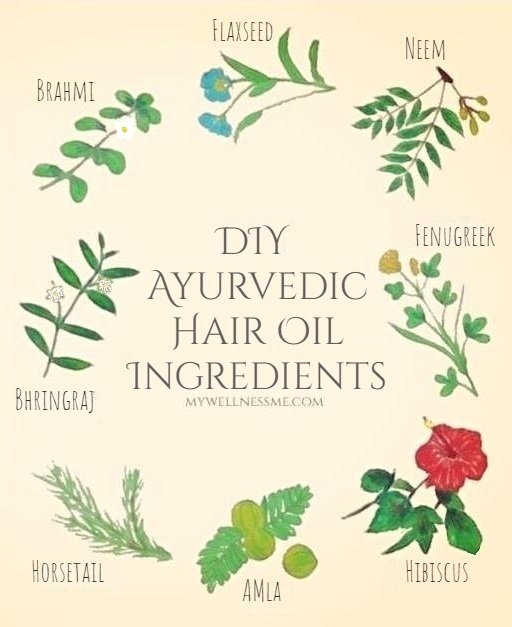 Ingredients:
Onion oil (1 tbsp)
Amla oil (1 tsp)
Castor oil (1 tsp)
Flaxseed oil (1 tsp)
Sweet almond oil (1 tbsp)
Neem oil (1 tbsp)
Olive oil (2 tbsp)
Bhringraj oil (1 tbsp) + dry leaves (half a handful or as desired)
Dried brahmi leaves (half a handful or less)
Horsetail leaves (half a handful or less)
Dried rose petals (a few)
Dried hibiscus petals (a few)
Coconut oil (500 ml)
Note: This is a customized DIY. So, as long as you have the base (in my case, coconut oil), you can play around with the ingredients. For example, castor oil has benefits for the hair but I'll probably stop using it because I don't like the smell. I ran out of fenugreek oil from my apothecary, which comes with its own set of advantages, so I skipped it for this recipe.
Some of these ingredients can do a great job standalone as well.
How to make DIY Ayurvedic hair oil
Some prefer to boil the fresh ingredients in base oil while others like to mix their powdered forms in oils. It's a matter of preference.
My recipe is more straightforward. I like to infuse dried ingredients in different oils to save me time and too much effort.
On to the recipe:
Take a clean sterilized glass bottle. Put all the oils in it, mix them well, and add rose petals, hibiscus petals, bhringraj and brahmi leaves. Keep it in a cool place for 3-4 days, filter it through a muslin cloth and there you have your easiest DIY herbal hair oil!
How to use the oil
Massage the oil gently onto the scalp till you're certain every area is covered. Gently apply the leftover oil on your palms to your hair. I leave the oil on for two hours maximum before shampooing.
I'm not a fan of leaving hair oil overnight. A huge drawback of leaving hair oil overnight is that dust may collect in the hair, which can lead to scalp infections.
Another tip: Leave the hair free after oiling. To let the scalp enjoy the benefits of oiling, it's best not to put pressure on it by tying the hair. Instead cover your head with a warm towel so the oil penetrates into the hair follicles as deep as possible.
Ayurveda and the importance of hair and scalp health
According to Ayurveda, the body has several points (marmas) which, when stimulated, positively affects the health. It figures that the head has some of those points as it is where our decision-making takes place. When we massage the head with oil, it gets rid of the bad elements (doshas) and restores balance.
Personally I like to oil my hair twice a week, sometimes once depending on whether my hair needs the treatment.
Below, I've briefly explained why I use these ingredients.
Why these ingredients
As already mentioned, you don't need all the ingredients. Use a base, such as coconut, olive oil or sweet almond oil and incorporate the ingredients of your choice. They treat specific issues so it's all right to use two, or even one, depending upon what your hair/scalp requires.
Bhringraj
Also called false daily, bhringraj is one of the fixtures of Ayurveda treatment. Bhringraj is known to strengthen hair, fight dandruff and promote hair growth. Further, it can combat fungi and bacteria.
Brahmi
Like bhringraj, this herb helps to fight hair fall and improves hair growth. Brahmi also alleviates dryness, flakiness and itchiness when used regularly.
Fenugreek
It is one of the best natural ingredients you can use to strengthen the hair. Fenugreek is rich in protein and iron which are essential for healthy hair.
Amla
Besides offering similar benefits to bhringraj and brahmi, amla is also good for the scalp and helps to treat lice infections.
Castor oil
Castor oil is very effective at strengthening hair strands. Also, it helps to make the scalp healthy, which promotes hair growth.
Flaxseed
Flaxseed contains vitamin E that nourishes the scalp and the hair follicles and helps the hair grow faster.
Sweet almond oil
This oil helps to strengthen hair. It can be effective in treating split ends. Moreover, its lubricating properties make sweet almond oil a good choice to treat dry scalp.
Neem oil
Neem oil is anti-fungal and also has regenerative properties. Regular usage can lead to healthier and stronger hair. It's best to dilute this oil with a carrier oil (I use coconut oil) before applying.
Hibiscus
Hibiscus has anti-bacterial properties and is full of antioxidants and vitamin C. It helps to strengthen and maintain hair health.
Rose
Besides possessing most of the benefits offered by some of the abovementioned ingredients, rose has other properties too. It helps to get rid of the extra sebum in hair and also dead skin cells.
Horsetail
Horsetail contains silica, which strengthens and helps grow the hair.
Onion oil
Onion oil moisturizes the scalp, controls hair damage, and may prevent premature graying of hair.
Olive oil
Olive oil contains squalene and oleic acid that makes the hair soft and also helps to moisturize the hair. The oil may help to treat split ends.
Coconut oil
It has lauric acid which nourishes the hair. Coconut offers the hair and scalp much needed moisture, helping to combat hair breakage.
The pH factor – When not to oil the hair
Oiling the hair is not for everyone. Our scalp has a natural water and oil balance. So, when it's too oily or too dry, the natural pH is affected and the consequence is hair loss. Oil on a dry scalp may be a good idea. However, if you already have oily hair, the DIY Ayurvedic hair oil may not be for you.
So, why have we been taking oil to our heads all these years? What are the benefits? Let's find out.
Benefits of using DIY Ayurvedic hair oil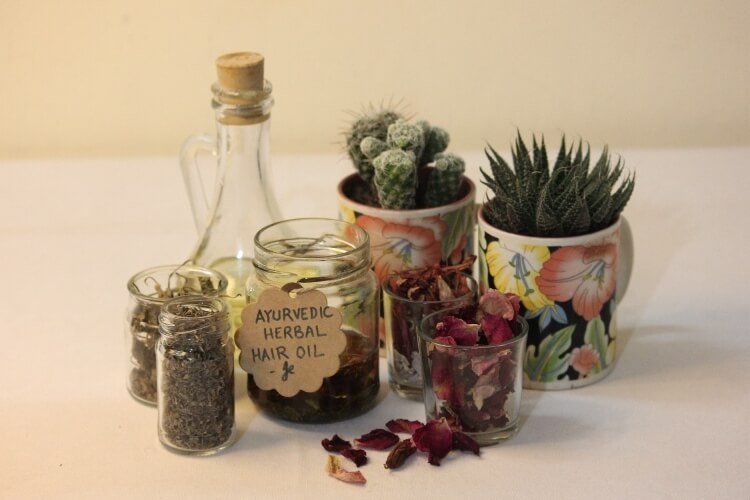 Strengthens: Oiling the hair can increase the hair's tensile strength, which helps combat breakage and dull and frizzy hair.
Protects: Oil forms a layer in the shaft that protects the hair, especially in dry, hot weather. If you are fond of the hair dryer, oil should be part of your hair maintenance routine.
Shines: Fatty acids in oil may help replace lipids in our hair. Lipids are organic compounds that provide shine to the hair. They are lost because of many factors, such as pollution and chemical treatments.
Helps with hair growth: When massaged into the head, oil nourishes the scalp and increases blood circulation. This may also reduce stress. The result is a happy scalp, which equals to hair growth.
Hydrates: Oil creates a protective layer around the hair. This helps to retain moisture which in turn leads to healthy, shiny hair.
A case for Ayurvedic hair oil
There's much to love about homemade herbal hair oils. Besides the obvious 'green' benefit of a lack of manufacturing footprint, another is that you are in control of the ingredients. You decide what goes and what doesn't into your hair and head. Best of all, you get to pick your ingredients from nature's boundless basket of wonders. You can't go much wrong with that.
Do you use herbal hair oil? Do you have your own version of DIY Ayurvedic hair oil you wish to share? Let us know in the comments.