Have you ever considered a DIY Ayurvedic mouthwash?
The mouthwash is, today, an essential part of our oral hygiene routine, and for good reason. Even a well-dressed, extremely dashing beast becomes a lot less appealing if they are breathing raging fire. Plus, the mouth is a home for many diseases.
A natural mouthwash gets rid of the odor and at the same time offers similar health benefits to its commercial counterpart. Also, you have control over the ingredients you use and, most importantly, these mouthwashes work.
So, which is more effective – DIY or commercial mouthwash? Whatever they might say to you, the answer to that question ultimately comes down to preference.
However, there is no doubt that the natural option is the safer option. It is also the better alternative financially and ideal for your eco-friendly beauty routine.
Let's begin with a very simple and effective DIY Ayurvedic mouthwash recipe.
DIY Ayurvedic Mouthwash Recipe – 1

The ingredients…
4 tablespoons of ground cloves
1.5 – 2 tablespoons salt
1 tablespoon Triphala powder
1/2 teaspoon baking soda
Instructions
Combine the ingredients and store it in a glass jar. It should last up to 2–3 months. When it's time to use the mouthwash, mix half a teaspoon of this powder in half a cup of distilled water. Swirl it in your mouth for two minutes and spit it out.
Why cloves?
One of the most common spices used in oral care, cloves are known to reduce tooth ache, gum infections and halitosis (bad breath).
Why salt?
Is there anything good old salt can't fix? When mixed with water, salt is almost as effective as Chlorhexidine, a disinfectant found in commercial mouthwashes, which helps fight bacteria that are responsible for gum diseases. Salt water is also a good treatment for dental plaque.
If you have sea salt, even better. Sea salt is effective in restoring valuable minerals to your set of dentures.
Why Triphala powder?
Triphala powder is a combination of the fruits amla (Indian gooseberry), bibhitaki and haritaki. The age-old Ayurvedic medicine has antibacterial and antioxidant properties and is effective in treating cavities, root canal infections and plaque formations.
How to make Triphala powder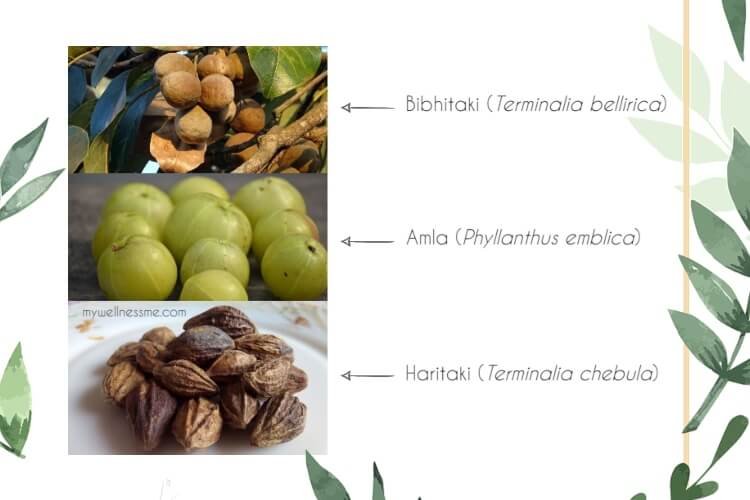 Keep the ingredients – haritaki, bibhitaki, and amla – in sunlight for three days or till they are completely dry. Grind them to a powder and store them in separate containers. Mix the ingredients in the ratio of 1:2:3.
You can buy these ingredients at your local Indian store or online.
Why baking soda?
Baking soda works against oral bacteria and bad breath and because it is alkaline, can help to improve pH in saliva. If you like your fizzy drinks and enjoy your dose of caffeine, baking soda in your mouthwash is just the tonic for you.
Moving on to another natural mouthwash that aficionados may consider slightly less "Ayurvedic" than this one. Still, it's no less effective.
DIY Ayurvedic Mouthwash Recipe – 2

Let's start with the ingredients…
1 cup distilled water
4 teaspoons baking soda
6 drops tea tree essential oil (You can add a couple of drops more if you wish)
1/2 – 1 teaspoon of salt
Instructions
Mix all the ingredients well in a bottle and shake it before use. Swish two teaspoons in your mouth for two minutes and spit it out.
Note: You can also add four drops of peppermint oil if you have bad breath, but in that case use only four drops of tea tree oil.
Why tea tree essential oil?
Tea tree oil has antibacterial properties but is more effective as an anti-inflammatory agent and good for reducing inflammation and bleeding caused by gingivitis. Note: It can be toxic, though not fatal, if ingested.
(For more information on essential oils you might want to check out this guide.)
Ayurveda is a cornucopia of hidden natural gems. Besides the ones mentioned in the recipes, there are plenty of other ingredients you can use, some of which are listed below.
Common ingredients in your DIY Ayurvedic mouthwash
Coconut oil: This not only cleanses you mouth but can also be used to reduce plaque and formation of gingivitis. Coconut oil is unique in that nearly half of its medium chain fatty acids is lauric acid, which is known to be anti-inflammatory and antimicrobial.
Cinnamon oil: This oil has antibacterial properties and is very effective in treating cavities caused by bacteria.
Aloe vera: Aloe vera can be used to treat plaque and gingival bleeding.
Holy basil oil: This one helps the body adapt to stress.
Neem (Azadirachta indica) and Babool (Acacia nilotica): How can this list not have these popular Ayurvedic toothbrush trees? Both are known to have very capable antiseptic and disinfectant properties with Neem being slightly better in that regard. However, both do as good a job as commercial mouthwashes, without the side-effects.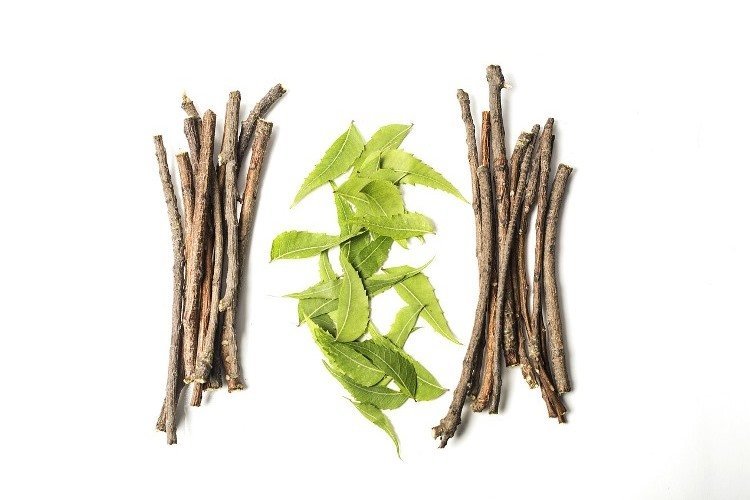 Ayurveda in oral hygiene
The use of Ayurvedic medicine in oral hygiene is an ancient concept.
And it makes sense. People back then didn't have over-the-counter medication to treat cavities and toothache. The dentistry was, one can safely deduce, more brutal than sophisticated. (Their more natural diet meant oral issues happened with less frequency for our distant ancestors, but they were present nonetheless.)
Also, it would be unfair and quite demeaning to assume that our ancestors were impervious to bad breath.
So, inevitably they turned to a natural solution.
One of the more common practices included the chewing of sticks that were either acrid or bitter in taste. Neem is a prime example. This action was believed to fight plaque as well as harmful bacteria in the mouth.
Oil pulling is another. In simple terms, this means swishing oil in the mouth and spitting it out. Typically, sesame and sunflower oil is used. Also, one of the many benefits of coconut oil is oil pulling. This action is known to fight bad breath, bleeding gums and tooth decay.
Ayurveda also recommends the use of amla. A daily intake of two grams in the form of a pill is beneficial to teeth and gum health over the long-term.
If you like to make your own DIY Ayurvedic products, take a look at this DIY Ayurveda shampoo recipe.
How often should you use mouthwash?
The message commercial mouthwashes like to give is that the product is great at killing bacteria. While this may seem attractive, the human body needs bacteria to function, at least the good bacteria that are beneficial to our gut health.
Sadly, chemicals in mouthwashes do not differentiate good from evil and are in seek and destroy mode.
Also, studies have shown that people who wash their mouths frequently (2–3 times) are 55 percent more likely to get diabetes or a sugar-related disease.
As for their natural and Ayurvedic counterparts, the chances of such misfortune happening are less but still it's good to be cautious in their usage.
What do think of these DIY Ayurvedic mouthwash recipes? Are there any other ingredient you know of that is suitable for a natural mouthwash? What do you use for your mouthwash? Let us know in the comments.