Let us all enjoy an eco-friendly holiday season this time around.
There's not enough time to coax the rest of the world into the bandwagon, but we green-living enthusiasts can do our bit.
All it takes are a few manageable changes. These include buying sustainable gifts from local markets, simplifying our décor, getting organic food, and saying no to disposable dishes.
It's an opportunity for us to take a load off the environment and saying "thank you" to the planet we call our home. Let's take it.
Of course, there are many ways to go about this. However, incorporating the endless number of ideas can be overwhelming, especially if you're starting.
So, here are some basic ideas you can take on board for a sustainable holiday season.
Let us begin with the heart of all good Thanksgiving and Christmas get-togethers – food!
Mind the Food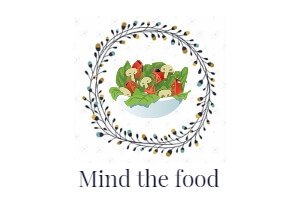 There is no celebration without a good meal.
And it is possible to prepare a good meal at home with ingredients that are easy to get and do not hurt the environment.
In other words, buy local, eat local.
Locally grown fare is not only great for the planet, but it is also healthier and, if prepared well, as tasty as the stuff you get from outside.
Also, cooking can be fun. Test out your skills; who knows there might be culinary gifts inside you that are waiting to be unleashed. Anyhow, cooking yourself is better than getting something from the market that you have sampled a thousand times.
As for the ingredients, go organic! Fruits, vegetables, meats, or spices, there is nothing more healthy and environment-friendly you can put on the dinner table.
Also, don't waste your food!
Stay Off Disposable Dishes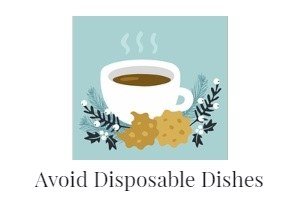 Where there is food, cleaning up afterward is inevitable. That is, if you are the sort to fearlessly meet the challenge of a mini Everest piled up in your sink.
Disposable dishes rid you of this hassle. Toss them in the bin, and that is the end of that. But what's the cost to the environment if we choose this option?
Plenty.
So, take one for Mother Nature and do the dishes yourself; she will be healthier and happier for it.
And if a full kitchen sink is too much to handle, use biodegradable plates instead.
Or try reusable bottles and cups to control the plastic footprint.
Once the guests leave, clean with natural, preferably homemade, cleaners, which are easy to make and effective. Check out our DIY natural homemade cleaners for ideas.
Buy Sustainable Gifts for an Eco-friendly Holiday Season
There's no perfect green product in the market, but you can buy gifts that have minimal footprint in their production and in their use.
One good way to go about it is to buy gifts that the receiver can use for a long time. Perhaps that will cost a few cents more, but it is any time better than others that are one or two-time use.
Also, there is no rule that you have to buy for every member of the family. Instead, you may get one thought-out gift that benefits the entire family.
Still, the best eco-friendly gifts are the ones that you make yourself. DIYs not only negate the need to buy, but they can also be quite fun and mentally stimulating for those who make them.
Finally, buy from local stores. Some items can be mouth-watering that you will not find in your vicinity but think about the cost of shipping them to you.
About wrapping paper
Another is to substitute wrapping paper, which people are likely to throw away, with gift bags one can use for a long time. If gifts bags are not your thing then use recycled wrapping paper. You can also buy cards made from recycled paper; the trees will be much happier for this choice.
Also, stay away from those shiny wrapping paper, which look great but are impossible to recycle and inevitably end up in the landfill.
Some of the best wrapping ideas are right there under our noses. Old maps, children's books, comics sections are all fun ways to wrap a gift. Not just for wrapping but old books, in particular, can be a goldmine for creative ideas.
Tip: Cut a sleeve off an old cuffed shirt that you don't plan to use ever. Stitch up the cut portion and use the cuffed opening to place your gifts. Button the cuffs and use a string to tighten it up.
What about the décor?
Use Sustainable Décor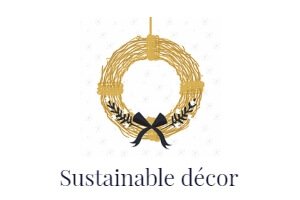 Lights are among the most indispensable elements of festive season decorations.
You cannot do without them.
Here, LED lighting comes immediately to mind. These are efficient, energy-conserving, and do not give you a shock with the electric bills.
If you are a candles person, use natural ones and not those fashioned from petroleum-based wax.
And when Santa season comes around, mind the tree. Fake trees look good, but these have a footprint problem in the production stage and also after use when the trees reach the landfill.
So, how about a real tree that can be used as mulch once the holiday season is over? Potted trees are even better, as you can use them for a long time and plant them once you feel the trees have exhausted their value.
Also, sellers are notorious for using tons of pesticides and coloring for Christmas trees so you can try organic trees instead.
And, for a truly eco-friendly holiday season décor, you have to say a big fat no to plastic!
Cut Down on Shopping Trips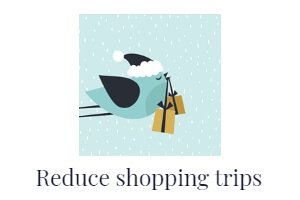 Now we are getting into the nitpicky territory, but this one is also significant.
Get everything you need in one shopping trip. Doing this not only saves you time but also limits your footprint.
If you can, it is best to ditch the vehicle altogether and buy your necessities online.
And if you have been invited to a party, carpool with your friends. This will save you fuel and also protect the environment.
If the guilt remains, there are companies that help offset fuel pollution generated by your travel by helping you to plant trees. Terrapass is one such organization.
Finally…
Donate This Holiday Season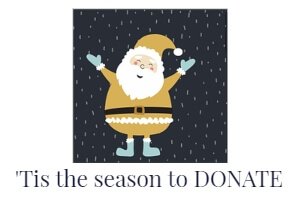 The holiday season is a time for joy and fun and a chance to spend quality time with loved ones. But it is not the same for everyone.
Many people do not have the basic essentials, and the season offers us a chance to ease their burden.
You can donate clothes, leftover food, or help in other ways. There are plenty of non-profit organizations that are happy to accept your kindness.
Donating is also a wonderful way to teach the younger generation the power of giving and the impact it has on people.
What do you think of our ideas for an eco-friendly holiday season? Have you tried any so far? Let us know in the comments.