One look at "sattu" and you wonder what the fuss is about. In its simplest form, the sattu recipe is banal, almost non-existent, requiring nothing but roasted gram and a grinder.
The appearance is nondescript. The very light brown shade gives the powder run-of-the-mill vibes. What can be so "super" about this food, you wonder?
But, contrary to what commercials have us believe, image isn't everything.
Over the centuries, sattu has been the go-to for millions, maybe billions, in India and South Asia. In sickness and in health, in poverty and in famine, this healthy alternative to flour has endured and sustained.
What makes it so special? What are the ways we can make it?
We'll get to those questions in a bit, but first let's look at its history.
History of sattu
There is no one definite origin behind sattu. What we do know is that it has been used over the years as a source of vitality and energy.
Some suggest that sattu was invented in Tibet, where it is known as "tsampa." This was a staple for monks who travelled far and wide in search of enlightenment.
Another legend has it that sattu was the number one choice of food for the armies of the Kalinga dynasty in India around the third century BC. Also, it was so valuable during the Tang Dynasty in China that soldiers allegedly received sattu as a mode of payment.
And in the 19th century, people in drought infested regions of India were advised to eat the protein-rich food.
The veracity of some of these claims is debatable, but there is a common thread that's hard to ignore – sattu is a high-energy superfood.
Also that it has been around for so long and is still popular means you don't have to be a culinary Merlin to make sattu.
And so now on to the recipe…
Sattu recipe – A twist on a classic
The traditional method of making sattu involves roasting Bengal gram in hot sand (for even cooking) and then grinding it to a fine powder. Easy as that.
My first experience with the superfood was a simple drink I made from a store-bought sattu and, truth be told, I wasn't blown away. It was a lot blander than I had expected and I was disappointed.
Then my mum who loves trying recipes from different cultures suggested that I try making sattu at home and gave me the following recipe. Bless you mum!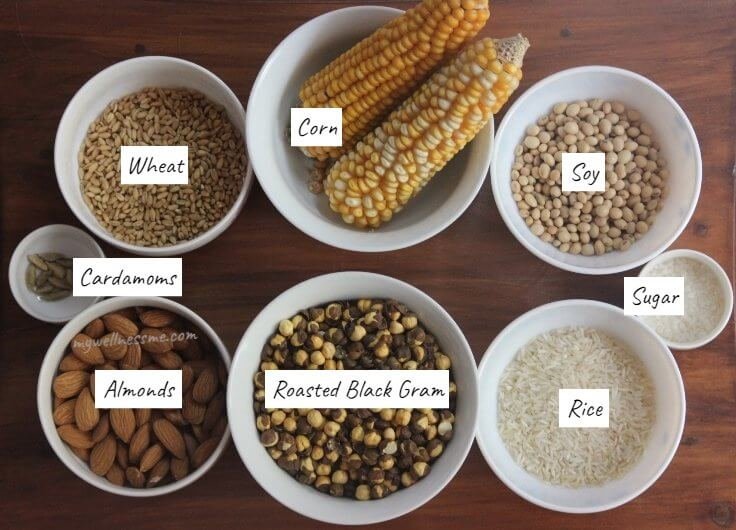 Ingredients
Roasted Bengal gram 500 gm
Corn 500 gm
Rice 100 gm
Wheat 100 gm (you can skip this if you want gluten-free sattu)
Soybean 100 gm
Almond 200 gm
Green cardamom 5-10 pods
Sugar 1 tbsp
Instructions
Clean, wash and dry the corn, rice, wheat, soybean, and almonds.
Roast them separately till they turn slightly brown.
Combine all the ingredients, including the gram and sugar and grind them in a mixer.
Sieve the mix and grind them again into a fine powder.
Your sattu is ready for consumption.
Once you have the powder ready, you are Thanos with the Infinity gauntlet. Sattu can be incorporated into your diet in myriad ways.
Ways in which you can enjoy sattu
A popular sattu drink is to combine 2-3 tbsp of sattu powder in a glass of cold water and add sugar/jaggery to it. Just like that you have yourself an energy drink.
Those who prefer a saltier drink can try this…
Combine 4 tbsp of sattu in 300 ml of water. Add 1 tsp of fresh lemon juice and salt to taste. You may sprinkle some black pepper on the drink and top it off with chopped coriander.
For breakfast, here's a fun recipe which I really enjoy and the first one I fashioned after learning to make sattu powder. Mix about 7 tbsp of sattu in a bowl of warm milk. Stir it well so there are no lumps. Add sugar or powdered jaggery for some sweetness. You may embellish this healthy porridge with raisins or nuts.
I am sure there are more elaborate recipes but I have yet to try them.
The bottom line is that this superfood is extremely versatile and allows you the freedom to experiment with it.
And have we mentioned the tremendous health benefits it provides?
(For more DIY healthy food recipes, check out our take on apple tea and how to ferment vegetables.)
8 benefits of eating sattu
Cools the body: Sattu mixed with a glass of cold water keeps the body cool and also helps with indigestion and acidity. In hot summer weather, sattu water can prevent heat strokes.
Offers protein benefits: A 100 grams of sattu provides about 20 grams of protein, which is a lot. This makes sattu ideal for vegan and vegetarians and for people looking for quick post-workout drinks.
Helps with weight loss: Sattu is a good metabolism agent and can reduce bloating. Eighteen percent of sattu content is fiber; in other words, 100 grams of sattu offers over 60 percent of our recommended daily intake of fiber.
Increases appetite: The healthy percentage of potassium and magnesium also makes this superfood an effective appetizer. Those with appetite issues can try drinking a glass of sattu on an empty stomach.
Detoxifies: Daily intake of sattu also strengthens the digestive tract, improves gut health, and the presence of many valuable minerals helps with bowel movement.
Keeps blood pressure in check: The low Glycemic Index makes it a perfect choice for those with diabetes or high sugar levels.
Energizer: Sattu is full of complex carbohydrates, which provide energy to the body for a long time. It is believed that a glass of sattu stimulates red blood cells thereby providing the body with more oxygen.
Benefits for women: Consumption of sattu is known to reduce menstrual cramps and clots, while also being effective in dealing with dark circles and hair loss. Further, the minerals and vitamins in the powder can lead to glowing skin and healthy hair, making sattu a perfect addition to an eco-friendly beauty routine.
What do you think of the sattu recipe? Have you ever tried sattu? Let us know in the comments.