Why go through the hassles of a DIY Ayurvedic face pack recipe when there are plenty of commercial ones that do the trick?
If you believe the adverts, some store-bought beauty products are so good that there's seemingly no science behind them, just magic.
Ah, but if you are a sustainable living soul with a big green heart, you will be able to see past the hocus pocus.
The primary reason for making DIY natural home products is that you are checking your environmental footprint. All commercial products leave something behind that the environment does not enjoy (more on this later).
Also, you are in control of all the ingredients. You know what's going into the product.
Finally, natural products are full of minerals and vitamins that offer tremendous benefits for the face.
So, here's a simple eco-friendly recipe that deals effectively with impurities and blemishes on the face.
Home-made DIY Ayurvedic face pack recipe
Do not worry; this is an easy one to make. There are no mystery ingredients more elusive than the Holy Grail that you find with some recipes. Your supermarket should have all of the following.
Ingredients
1 tablespoon green gram [mung bean/moong dal (Vigna radiata)]
1 teaspoon orange peel powder
1 teaspoon sandalwood (Santalum album) powder
½ teaspoon of lemon
Milk to soak the green gram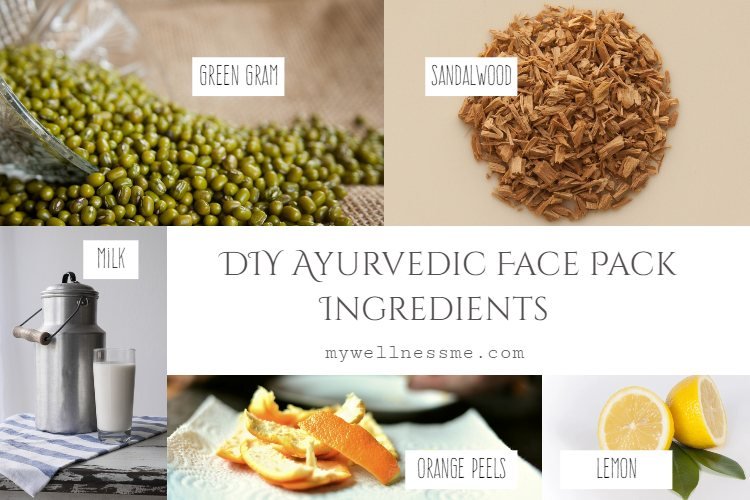 Note: The measurements are my own and not set in stone, so you can change it up if you wish. However, I prefer the quantity of the green gram to be more than the rest of the ingredients (lemon, sandalwood, and orange peel powder) combined.
Instructions
Step 1: Soak the green gram in milk overnight.
Step 2: In the morning, take the green gram and grind it to a paste that is neither too smooth nor too coarse. (This is how I like to do it, though some prefer a coarser pack.)
Step 3: Take the ground gram off the grinder and put it into a bowl. Add the remaining ingredients and mix thoroughly.
Step 4: If you feel the mix is too dry, add the milk till you are satisfied with the consistency.
Step 5: Apply on a clean, dry face with gentle, circular motions.
Step 6: Wear the pack for 20 minutes.
Step 7: Wash it off with cold water.
Do this three times a week if you have problematic skin or two times (even once is all right) if your skin is healthy enough.
Though it's tempting to make a humongous batch and use it over time, I prefer to make just enough for one-time use. This way you are using the recipe at its freshest.
(If you like DIY recipes you can add to your eco-friendly beauty routine, you might want to check out our popular natural homemade Ayurvedic shampoo.)
Why these ingredients?
Green gram is full of Vitamins A and C that help to give the face a healthy glow. Also, it gets rid of dead skin cells and improves the texture of the skin.
Raw milk, like green gram, is a good exfoliator. Besides, it also helps to keep wrinkles at bay.
Orange peel powder is full of Vitamin C that makes it perfect for oily skin. Its anti-bacterial properties also help to fight acne formation.
Lemon juice also contains vitamin C and does the same job as orange peel powder. Moreover, the high pH levels make it an ideal anti-inflammatory agent and perfect for oily skin types.
Sandalwood powder is a good remedy for both dry and oily skin because of its ability to restore the skin's natural oil production. It is also an effective anti-inflammatory agent.
There is no shortage of natural ingredients that have anti-bacterial, anti-fungal, and anti-inflammatory properties. These herbs and spices help keep the skin clean and free of acne and help to produce natural oils on the face.
Natural ingredients good for the face
If you intend to make an Ayurvedic face pack at home, you can experiment with some of these herbs and spices.
Fenugreek: The seeds are full of vitamin C, which makes them rich in antioxidants. Fenugreek benefits the skin by evening out appearance, protecting it from sun damage, and improving dark spots.
Jasmine: The leaves of this flower are anti-microbial and effective for people with oily skin.
Neem: The herb provides anti-fungal and anti-bacterial benefits. Besides, it is also effective at opening clogged pores and removing dead skin.
Moringa: The leaves of the drumstick tree are anti-inflammatory, antiseptic and effective against acne and rashes.
Aloe vera: This is one of the most used plants in Ayurveda. It is anti-bacterial, anti-fungal, anti-inflammatory, and a possible remedy for a host of skin problems, including rashes and blemishes.
Chamomile: The herb contains alpha-bisabolol, which can combat the onset of wrinkles. Besides, it is effective against skin burns and acne.
Calendula: Calendula is the go-to solution for dry skin due to the presence of the oil-soluble compound carotenoids. It is also known to fight skin conditions such as psoriasis, varicose veins, and warts.
Lavender: The plant (especially its oil extract) is a cure for eczema, and its sweet aroma offers calming properties. Besides possessing excellent anti-bacterial properties, lavender has antioxidants that can fight against premature aging.
Turmeric: While aloe vera may be the most popular Ayurvedic ingredient, turmeric is possibly the most effective solution for skin problems. This anti-inflammatory and antiseptic spice is a possible solution for a range of skin issues, such as eczema, rosacea, and acne.
Other ingredients good for facial skin
Yogurt: Yogurt contains zinc which makes it an effective anti-inflammatory. The lactic acid helps in exfoliating the skin. Massaging yogurt (plain, not the sweetened variety) on the face hydrates the skin and rids of dead cells, pores, and fine lines.
Banana: The fruit carries a host of valuable minerals, including biotin, iron, manganese, and vitamins B6 and C. These nutrients help reduce wrinkles and restore the health of your complexion.
Honey and oatmeal: Honey has anti-microbial and anti-bacterial properties besides being a good skin moisturizer. It combines effectively with oatmeal (a good exfoliator) to brighten and hydrate the skin.
A face pack is not enough
Yes, a DIY Ayurvedic face pack recipe can do wonders for your skin.
But does that cover for an unhealthy lifestyle?
The answer is no.
What goes inside the body is of greater importance than what you put on it. So, eat healthy foods. Try a plant-based diet that includes lots of vegetables, fruits, some meat (yes, some meat!), and turn your back on fast foods.
If you smoke and you want your skin to look a million dollars, chances are it won't.
Don't let anything come between you and your eight hours of sleep. Lack of sleep can lead to stress, and stress does no good to your skin.
Finally, give your skin the TLC it deserves. Regular cleansing, moisturizing, and toning keep the skin healthy.
The environment does not approve commercial face packs
Before we talk about why commercial face packs are not great for the planet, let's focus on why sometimes they are not great for the skin.
Some face packs have too many ingredients. Maybe companies do it in good faith, but they also know that for customers, more is better.
Is it, though?
The chances are that more ingredients increase the chances of irritating your skin. That may lead to acne, burning sensation, hives, and other issues.
Also, avoid anything wrapped in plastic that ends up in the landfill or the oceans. Plastic produces the environment debilitating gas, methane, in the landfill. If they are not poisoning the air above, they end up being a hazard for marine life.
Then there are sheet masks, which are some of the most environment-damaging single-use products. Nothing about them is recyclable. They come wrapped in plastic and aluminum, two of the last materials to use if you want to save the environment.
What's your opinion on the DIY Ayurvedic face pack recipe? Is there any that you know of that you wish to share? Let us know in the comments.