Coconut oil is like Game of Thrones Season 8. It divides opinion and generates debate.
Some swear by it, while others like Harvard and the AHA have are less complimentary. So, where should we stand?
Is it "superfood"? Nah, maybe not. If every edible substance labeled so over the last ten years was "superfood" we wouldn't need the Avengers to combat Thanos.
But it's not hell spawn either. Calling it "pure poison" like some Harvard professor did is stretching things a bit too far.
Residents of the Indian state of Kerala (loose translation is "land of the coconut") use the fruit for pretty much everything, including the oil for cooking. That's 35 million souls living off pure poison.
The Internet educates and exaggerates.
Maybe the line is somewhere in between. If used in moderation, coconut oil has a lot to offer.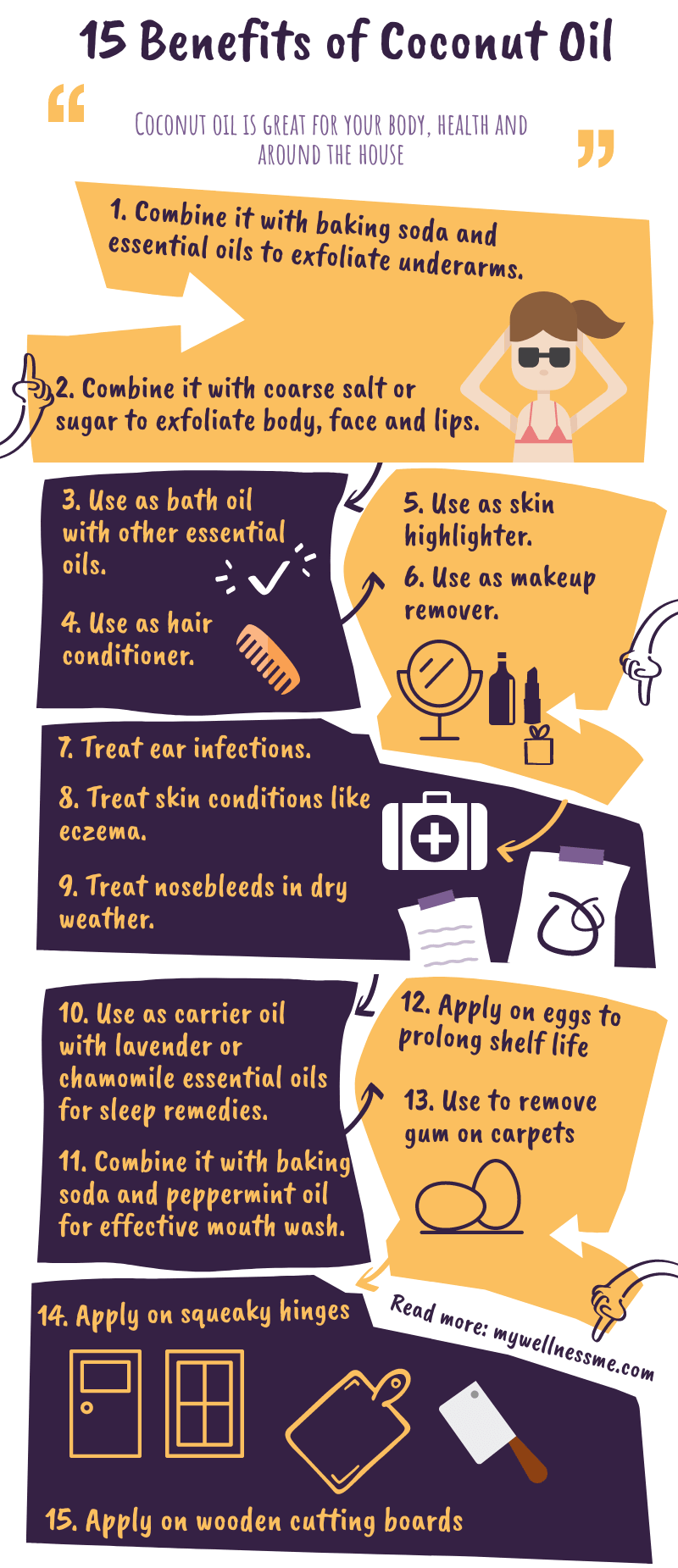 Coconut oil for the body and face
Coconut oil is an excellent moisturizer for the body.
It works very well on thicker parts of the skin like cracked heels and rough elbows. This is because it contains saturated fats that are effective at repairing your skin's natural barrier function. This characteristic also makes the oil a good option for dry skin and for those with conditions like eczema.
However, the same potency that makes it good for the body can be a bit much to take for the gentler and thinner facial skin. It still offers the face benefits, as long as you apply the oil in small amounts and with discretion. (The section below has a few good examples on how to use coconut oil on the face.) And if you have sensitive facial skin, watch out! Coconut oil is one of the more comedogenic oils, which means it is more likely to produce blackheads and blockages than other oils.
Still, if you want to reap its benefits on your face then look for products where it is more an added ingredient than a primary one.
Body and beauty routines
Coconut oil has made it to beauty routines.
You can combine it with baking soda and essential oils to exfoliate underarms. The presence of baking soda gives the skin a brightening effect.
And by just adding coarse salt or sugar to coconut oil, you will get an excellent lightly scented exfoliator that works on body, face and even lips!
The oil's antibacterial and antifungal properties also guards against odor-causing bacteria and makes it the perfect ingredient for a foot scrub.
Moreover, it makes for an effective skin highlighter. Use minimally on the cheekbones or the eyelids for a healthy glow.
Or you can use it as a makeup remover. Just ensure to wipe off the oil traces with a dry tissue and use a cleanser and proper moisturizer afterwards.
Finally, adding it to your bath is a great way to keep the moisture in your skin from drying out. Here's how you do it: Add 1/4 cup coconut oil and the same amount of Epsom salts into your warm bath. You can also add essential oils of your choosing. The salts draw out toxins while the oil moisturizes the skin.
(For more comprehensive information on essential oils, check out this guide.)
(For coconut oil-free DIY daily use moisturizer, try this recipe.)
Coconut oil for hair and scalp
We've already sung its praises as an amazing moisturizer. But coconut oil also happens to be a very good conditioner and serum and, therefore, great on naturally dry hair. Plus, it's inexpensive and value for money – a little goes a long way. Application amounts vary but ideally it is about two tablespoons for long or coarse hair and one for fine or short hair.
Its antibacterial properties also make coconut oil a very good option to treat dandruff, besides it has the capacity to de-stress the mind through massage. Long massages may result in healthy hair growth by promoting blood circulation to the scalp.
Coconut oil for health
The oil's antibacterial and antifungal properties help treat eczema, rashes, athlete's foot, thrush, ringworm, minor cuts, and athlete's foot. Combining it with peppermint and/or tea tree oil is an effective way to guard against chapped or sore skin in colder months. For psoriasis, combine it with geranium oil and shea butter for best results.
For ear infection, directly apply warm coconut oil to the problem area.
Further, nosebleeds caused by dry weather can be prevented by lining the inside of the nose with coconut oil.
For cold and breathing issues, mix coconut oil with eucalyptus oil and rub gently on the chest, which opens airways and makes breathing easier.
Additionally, it is an excellent carrier oil when using essential oils like lavender or Roman chamomile oils to reduce anxiety or for sleep remedies.
Coconut oil pulling
It's a rather effective mouthwash as well. Mix equal parts oil and baking soda. Add a few drops of peppermint essential oil and you're good to go. Jury's still out but it could improve gum health and certainly freshens your breath. Plus, the oil may be good against tooth decay according to researchers at the Athlone Institute of Technology.
Coconut oil benefits for the house
Applying small amounts of coconut oil on eggs can help seal the pores in the shell and prolong their lives by 1-2 weeks.
It can also be used to remove gum stuck on carpets and shoes. Likewise, it effectively removes those annoying sticky residue from labels on plastic and glass bottles. Just a tiny amount of oil and a dash of baking soda will do the trick. This mixture should contain equal parts of both oil and soda to form a somewhat abrasive paste. For labels that are too stubborn, leave the paste on for 10-30 minutes and wipe with a dry cloth.
It does a decent job with furniture too. Those squeaky hinges? Dab coconut oil on them and see if the noise persists.
You can also give a moisturized and classy look to your wooden cutting board by applying coconut oil, after first disinfecting the board with lemon and vinegar.
Which coconut oil to use
The rawest unrefined form with all its phytonutrients and polyphenolsis is the best form of coconut oil. Look for bottles with the tags "virgin" or "cold pressed."
If these oils smell a little too strong for you then opt for organic refined or "expeller-pressed" coconut oils.
And if none of the types suits you, no problems. There are many different oils in the market that should complement your skin.
Busting myths about coconut oil
Coconut oil cannot make you lose those well earned inches around the waist. That is only possible through exercise and a proper diet plan.
It will not spike up your metabolism rate. For that you will have to improve your muscle to fat ratio, which again means hard exercise.
It is not healthy for your heart. If you consume in moderation then it's pretty harmless. Alas, one tablespoon constitutes half the American Heart Association-recommended daily dose for saturated fats. So, no! coconut oil does nothing to improve your heart health.
No luck with the heart so on to the brain. Does it make us smarter? Developing research supports that it slows down the progression of Alzheimer's disease. Other plant-based oils containing phytonutrients have also been linked to decreasing risk of brain diseases. But these are far from concrete evidence. Maybe one day… hopefully.
It does nothing for diabetic patients. They may notice less of a sugar spike with food cooked in coconut oil but that's because of the saturated fats. Sadly, saturated fats are also linked to the risk of diabetes.
There is no cholesterol in this oil, unless it's been extracted from a new species that moves around in four legs. Cholesterol comes from animals!
That about wraps it all up! Do you use coconut oil for skin care? Share any ideas, thoughts, or questions below! Do you use it on your hair? What results have you experienced? Share below!