How good is oat milk?
Let's deliberate this carefully.
Horses love oats.
Horses are strong.
They run like the wind.
So, that makes the equation straightforward. Be like a horse.
If only it were that simple. Horses eat oats meant specifically for equine consumption. Still, that does not make the oats humans eat a poor substitute.
So, is oat milk as good or better than cow, almond, or soy milk?
We like to play the "versus" game when the reality is that all options come with their unique characteristics. They offer lots of benefits to our bodies and a few side effects.
Oat milk is no different. It is rich in protein and fiber and non-allergic. And yes, it's creamy and rather tasty.
Before we jump on to the benefits of adding oat milk to our diets, let's first see how to make the beverage.
How Do You Make Oat Milk?
The recipe is so simple that anyone can make it. All you need is oats, obviously; water; and a fine strainer, preferably cheesecloth but others will also do.
Here's a simple version I make.
Set aside cold water and oats. The ratio I use is 10:1; for example, use 500 ml of cold water for 50 gm of oats.
Blend the ingredients for a full minute till it's smooth.
Run the mix through cheesecloth, and voila! Your oat milk is ready.
Pour the milk into a bottle and store it in a refrigerator.
I like to have my oat milk with homemade sattu, a combination that is not only quite tasty but also extremely healthy.
Benefits of Oat Milk
Oats is 100 percent whole grain and perfect for a plant-based diet. It's laced with vitamins and minerals such as calcium, iron, and magnesium.
The food also has a good amount of protein and fiber. It contains a fiber called beta-glucan that can improve high blood sugar conditions and cholesterol issues. Consequently, it fights potential heart problems.
The fiber also carries prebiotics, which the good bacteria inside our tummy love to snack on.
Further, if you cannot eat dairy products, then oats is the best alternative.
Here, a note to sticklers like me. Processed oats may not be 100 percent gluten-free if the machines used in their production are the same ones where products containing gluten are processed. Check for a Certified Gluten-Free symbol on the pack to be sure.
There is little doubt about the positive effects of oat milk on our bodies. But like other foods, it cannot do much on its own.
A balanced diet is always greater than the sum of fabulous but irrelevant super ingredients. So, ensure that you have vegetables, fruits, nuts, and seeds to compliment your oat milk (add healthy meat or seafood if you are a non-vegetarian).
The presence of iron in oat milk means that the beverage can be a good food source for those suffering from anemia.
What about disadvantages then?
Disadvantages of Oat Milk
One, oat milk is expensive, especially compared to the dairy version.
Commercial oat milk has the drawback of being processed. But it has vitamins like D, A, and B2, which contribute to a strong body, including bone health and metabolism. That is something missing in homemade oat milk.
However, commercial oat milk is full of preservatives and additives, and it's not easy to find an alternative without that added sweetness.
Further, oats is calorie-heavy, especially in comparison to other milk options. So, if you are seeking to lose weight, maybe it is not the best option. Still, there is another school of thought that the fiber-rich content in oat milk makes the beverage a good choice for those who want to lose body fat.
How Oat Milk Stacks Up to Other Milk Options
Now let's see how oats does in comparison to other kinds of milk.
First up, cow milk
Homemade oat milk does not have the natural vitamins and minerals present in cow milk. However, commercial versions do as FDA has permitted fortifying the product with vitamins and minerals.
Cow milk, the whole version, has more calories and also more protein which helps to keep the stomach well satiated. On the other hand, oat milk has a higher amount of carbs.
What about almond milk?
If you compare the unsweetened versions of both, oat milk has more calories, fat, protein, carbs, and sugars than almond milk.
However, almond milk has more sodium content. It is also full of vitamin E that makes the beverage good for the skin and the immune system.
On to soy milk…
In comparing the unsweetened versions, you'll find that oats has more calories, carbs, and sugar than soy milk. The fat content is more or less the same, but soy milk has more protein in it.
In terms of the vitamins, you get more vitamin A with soy milk and more vitamin D with the oats version. It's with the B vitamins that soy milk steals a march, with more thiamin, niacin, folate, and vitamin B12 in it.
The illustration below offers a clearer picture of how the different milks stack up nutritionally. For good measure, we've also thrown in coconut and rice milk. The chart is based on 240 ml for each milk type.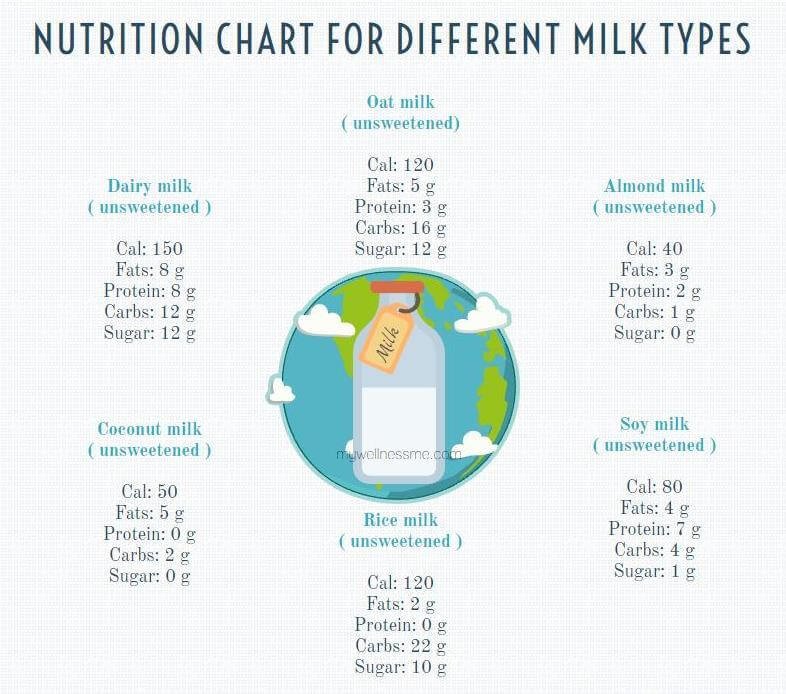 Not just oat milk, but most other milk alternatives offer loads of health benefits if you want to try something different other than dairy milk.
Dairy is good but…
The one thing going for cow milk is its calcium content. And calcium, we have all been told over and over again, strengthens our bones. While that may be true, cow milk is not an irreplaceable source of calcium in our diets.
According to research, people do not suffer from more bone problems in countries where people are not into dairy products than the US where they are still very popular.
We can get the daily intake of the mineral by taking calcium-rich food to our diets, such as kale, soybeans, and sardines.
Then there is the small matter of carbon footprint with rearing cattle for the diary (or meat).
Take a look at these stats!
When a cow passes gas or burps, it releases methane into the atmosphere. It's a greenhouse gas that is about 28 times more potent than carbon dioxide. (Nat Geo)
Just by burping, cattle around the world are responsible for releasing 3.1 gigatons of CO2 annually. (BBC)
What is your opinion of oat milk? Have you ever tried it? Let us know in the comments.