The human race is going at a rapid rate of knots. We don't have to but the times dictate the pace of our lives. We like to cram everything into today, like a giant asteroid is scheduled to crash into our planet tomorrow.
Everything around us is fast. Cars. Food. Conversations. Even the messages on our phones are truncated and emojis have replaced emotions. Movies have become faster. Songs stuff a chapter worth of lyrics into five minutes. In a bid to enjoy as much as we can in as short a time-frame as possible, we end up savoring less.
There is greater connectivity than at any point in our history, but we are losing connection with our lives.
There only one solution. It's time for slow living.
But what is slow living?
To live slowly, you don't have to take a remote control to your existence and slow the pace down like you'd do with a video. Slow living does not require you to walk or talk slowly. It is simply about getting to know and appreciate the things around you and planning your life in a way that you have time to enjoy them. It's best embodied by the Danish lifestyle trend hygge.
Hygge encapsulates slow and mindful living. This art of coziness is about enjoying the simple things in life, such as conversations with friends and family or cooking your favorite meal for sheer pleasure. Living a hygge lifestyle means embracing old school existence. For example, reading a book or playing checkers in place of watching a movie or video games, and savoring every moment of the experience. All this, of course, on minimal budget.
Let's learn more about slow living.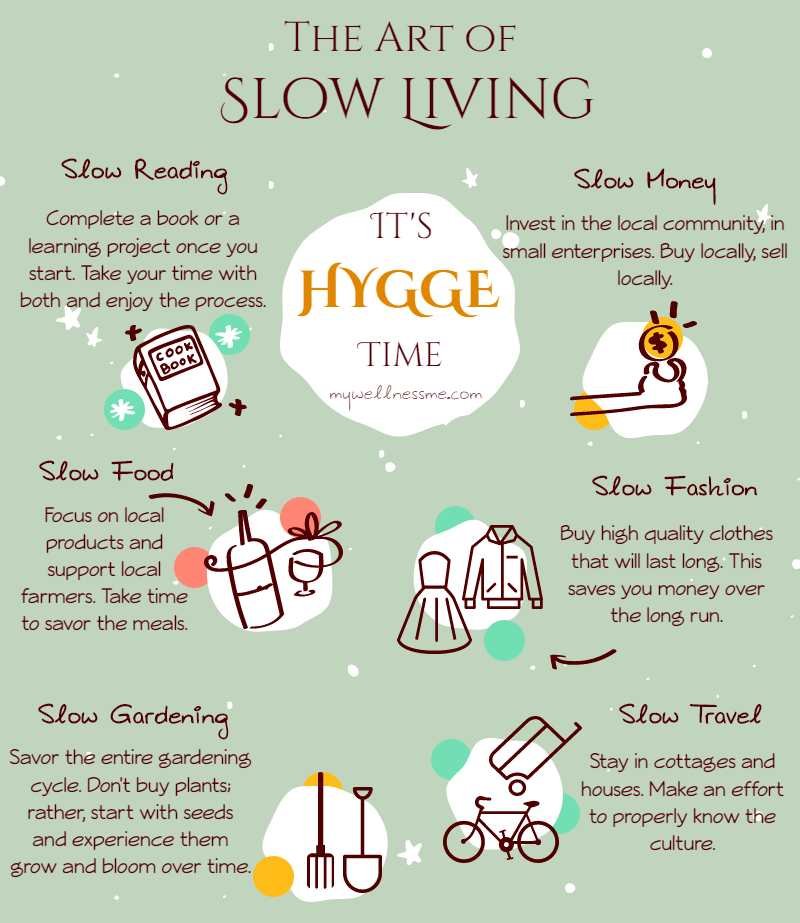 Slow food
This movement focuses on local produce and taking the time to enjoy the meals made with them. When we endorse our local farmers, we are also preserving our traditions and supporting green living. Commercial food takes a long time to get to our plates and the transportation aspect negatively affects our environment.
However, slow food is not just about what we eat but how we eat them. Here, food is not just a break from our work but an occasion to savor its different flavors, slowly and mindfully.
Use durable cookware like cast iron and stainless steel while preparing your food. Cast iron cookware in particular is great for sustainability.
Slow travel
A holiday is meant to be enjoyed, not burn yourself out to the point that you arrive back home desperate to sleep off the weariness.
The concept of slow travel is to stay in a place for a length of time. The best advice in this regard is to book cottages and houses rather than hotels, and live like you'd do at home. Visiting famous spots is understandable but mostly head out to places that locals visit.
Further, immerse yourself into the new culture and take time to soak in the architecture, the people, the weather, the food. You'll return with new experiences and knowledge and greater appreciation for life.
Slow money
This slow movement involves investing in farms and small enterprises within the local community. It's about strengthening the local economy and promoting local products. So, this means buying from local shops, selling your products locally, working there if you can, and growing your own food as much as possible.
Slow reading and learning
Have you bought a 500-page book, read it for a while, and shelved it with a silent vow to complete it soon? The "soon" never comes and by the time you get around to finishing it, you'd have ten new books adorning the shelf. (I've been guilty of this for years but I am trying to change.)
The upshot is a shelf full of books you're yet to begin or have already begun and aborted. What if we make a concerted effort to finish books we start and take our time to imbibe the pleasure and information it imparts?
Ditto with learning anything. For example, if you're learning the Spanish Language, persevere and stick with it. Don't stop after "hola," "cómoestás" and "adios" and jump to French and become proficient with just "salut," "comment allez-vous" and "au revoir."
(If you are a book lover you might enjoy these beautiful passages on green living and nature. )
Slow fashion
Slow living applies to clothes as well. Purchase garments that are of high quality and timeless fashion. Not only will we save money over the long run, but we will also do the environment a huge favor.
For more detailed information on slow fashion, check out this article.
Fast fashion's use-and-throw culture results in 92 million tons of textile waste making it to the landfill every year, to decompose and produce dangerous gases. A drop-off in demand may lead to laborers losing their jobs but they risk more than that already working in terrible conditions.
Besides being ethically correct, slow fashion also makes your wardrobe a lot classier.
Slow gardening
Gardening is typically a slow practice. You may speed up the planting process but the flowers and fruits will come in their own time. And it's the waiting part of the process that is so rewarding. Most gardeners will tell you as much.
Of course, you have the option of buying plants and taking care of them, but that's less fun and certainly no slow living. So, start with seeds and nourish them till they grow into handsome plants or beautiful flowers. Some you can even eat. This journey can be peaceful and gratifying.
If you are new to gardening you may want to start with how to grow your own indoor herb garden.
Garden ecotherapy is another way that can do wonders for your emotional and mental well-being.
De-clutter
Hoarding is a human vice but having too many things are not good for your mental health. It can cause anxiety and stress and slow down your ability to process information. De-cluttering and getting rid of things you possess but rarely use can have a positive effect on your being. Your gut health improves and the consequence is a healthier and stress-free brain.
The value of de-cluttering personal space is underrated:
The average American spends one full year of their life looking for things they've misplaced.
When you get rid of clutter, you bring down housework by about 40 percent.
People with cluttered and messy homes are more tired due to stress.
Start slowly. Getting rid of things is not easy but doable. And de-clutter your day-to-day schedule. If you are spending time in something daily that adds no value to your life, use those hours and minutes for better things.
Appreciate the beauty in the mundane
Live your experiences.
A simple task like taking the dog out or making morning tea offers time for introspection and opportunity to experience the beauty around us. Sometimes, slow living is about deliberately slowing down our thought process.
For those few minutes, we can consciously try to forget the day that lies ahead and make an effort to be aware of our surrounds. For instance, if you are at the park, enjoy the different flowers or birds and take in the view. Even the seemingly banal process of making tea in the morning can enliven your mind if you learn to enjoy it.
Set time aside to meditate in the morning. The term" meditation" is no marketing gimmick. It gives you perspective and peace and the right outlook for the day ahead.
Final note…
To live slow, you have to learn to embrace sameness (and boredom sometimes), stop multi-tasking, and enrich your life in the process.
It requires tremendous discipline to stay off the burgeoning candy shop that is today's world. But it's a sacrifice that will pay off, for you and the planet you inhabit.
True, you'll be giving up a few pleasures along the way if you are serious about this life. Still, if you think about it, at the core of slow living is ENJOYMENT. It's offering you the chance to take delight in the things already around or owned by you.
And slow living is beneficial for your health. We are not conditioned to live the way we do in the present day. This rat race is fraught with possible health disasters. Uncontrolled fast living breeds stress and stress leads to heart diseases and (close your ears) accelerated aging. Then there's the threat of depression and anxiety and other ailments that come with the territory.
Live slow and live well.
What do you think about "taking your time" in life? Are you already doing it and, if not, do you think it's a good idea?