Beautiful writing makes me smile.
There are few things better than when masters of penmanship describe the world around us in all its raw, untouched natural beauty.
The following are some such lines from literature that make the green-living heart momentarily jump with joy. Hope these inspire you to see our planet for what it really is, embrace slow living and reduce carbon and plastic footprint.
Here we go.
Quotes and passages from literature that gladden the eco-friendly soul
1. "Have you ever noticed how many silences there are Gilbert? The silence of the woods….of the shore….of the meadows….of the night….of the summer afternoon. All different because the undertones that thread them are different."

L.M. Montgomery, Anne of Green Gables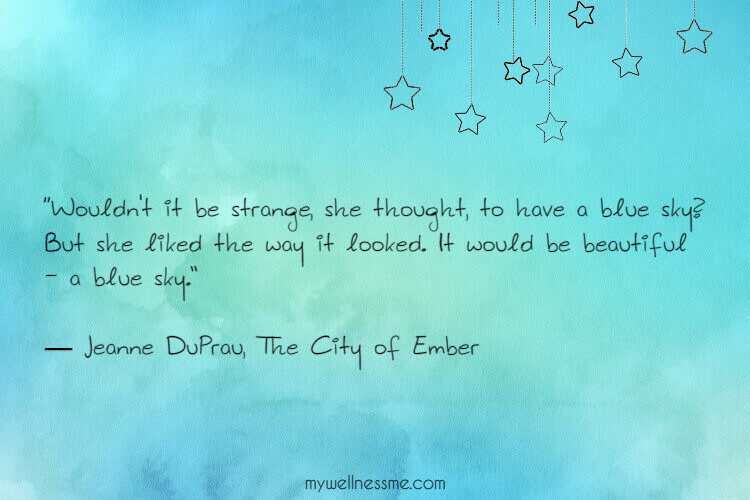 2. "Wouldn't it be strange, she thought, to have a blue sky? But she liked the way it looked. It would be beautiful – a blue sky."

Jeanne DuPrau, The City of Ember

3. "Yet even so, Jon Snow was not sorry he had come. There were wonders here as well. He had seen sunlight flashing on icy thin waterfalls as they plunged over the lips of sheer stone cliffs, and a mountain meadow full of autumn wildflowers, blue coldsnaps and bright scarlet frostfires and stands of piper's grass in russet and gold. He had peered down ravines so deep and black they seemed certain to end in some hell, and he had ridden his garron over a wind-eaten bridge of natural stone with nothing but sky to either side. Eagles nested in the heights and came down to hunt the valleys, circling effortlessly on great blue-grey wings that seemed almost part of the sky."

George R.R. Martin, A Clash of Kings
4. "On any other day she would have stood barefoot on the wet grass listening to the mockingbirds' early service; she would have pondered over the meaninglessness of silent, austere beauty renewing itself with every sunrise and going ungazed at by half the world. She would have walked beneath yellow-ringed pines rising to a brilliant eastern sky, and her senses would have succumbed to the joy of the morning."

Harper Lee, To Kill a Mockingbird
5. "He was born to be a farmer. It was something that he was good at, something he knew well. He was a giver of life, an alchemist that worked in dirt, seed, and manure."

Tracy Winegar, Good Ground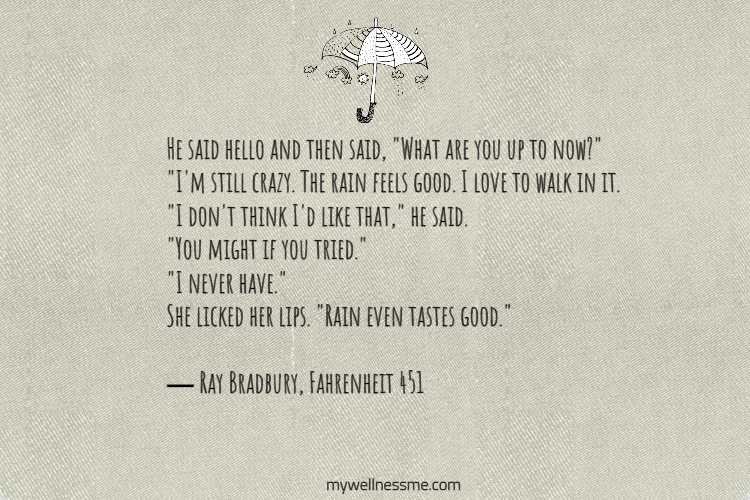 6. He said hello and then said, "What are you up to now?"
"I'm still crazy. The rain feels good. I love to walk in it.
"I don't think I'd like that," he said.
"You might if you tried."
"I never have."
She licked her lips. "Rain even tastes good."

Ray Bradbury, Fahrenheit 451
7. "The woods do that to you, they always look familiar, long lost, like the face of a long-dead relative, like an old dream, like a piece of forgotten song drifting across the water, most of all like golden eternities of past childhood or past manhood and all the living and the dying and the heartbreak that went on a million years ago and the clouds as they pass overhead seem to testify (by their own lonesome familiarity) to this feeling."

Jack Kerouac, The Dharma Bums
8. "How beautiful the sky looked, how blue and calm and deep! How brilliant and majestic was the setting sun! How tenderly shone the distant waters of the Danube! And fairer still were the purpling mountains stretching far away beyond the river, the convent, the mysterious gorges, the pine forests veiled in mist to their summits.

…There all was peace and happiness. 'I should wish for nothing, wish for nothing, for nothing in the world, if only I were there', thought Rostov. 'In myself alone and in that sunshine there is so much happiness'…"

Leo Tolstoy, War and Peace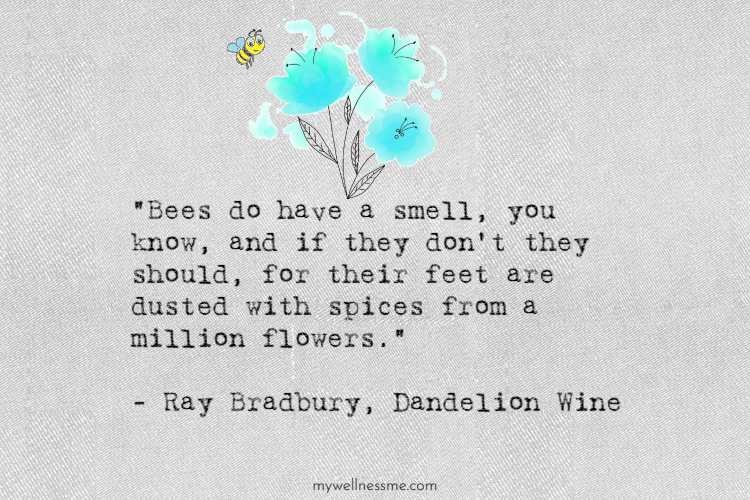 9. "Bees do have a smell, you know, and if they don't they should, for their feet are dusted with spices from a million flowers."

Ray Bradbury, Dandelion Wine
10. "A house you can rebuild; a bridge you can restring; a washed-out road you can fill in. But there is nothing you can do about a tree but mourn."

Louise Dickinson Rich, We Took to the Woods
11. "How sweet the morning air is! See how that one little cloud floats like a pink feather from some gigantic flamingo. Now the red rim of the sun pushes itself over the London cloud-bank. It shines on a good many folk, but on none, I dare bet, who are on a stranger errand than you and I. How small we feel with our petty ambitions and strivings in the presence of the great elemental forces of Nature!"

Arthur Conan Doyle, Sherlock Holmes: The Complete Novels and Stories, Volume I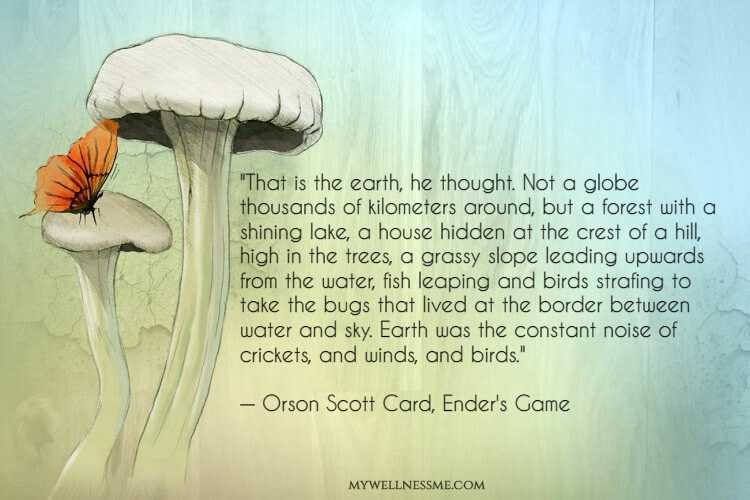 12. "That is the earth, he thought. Not a globe thousands of kilometers around, but a forest with a shining lake, a house hidden at the crest of a hill, high in the trees, a grassy slope leading upwards from the water, fish leaping and birds strafing to take the bugs that lived at the border between water and sky. Earth was the constant noise of crickets, and winds, and birds."

Orson Scott Card, Ender's Game
Do you have any favorite passage(s) from literature about the natural world or living off the land you'd like to share? Let us know in the comments.